By Julie Davis
Everyone has heard the term "women investors."
It has recently become a targeted demographic in the financial industry. Why is that? Isn't women's money printed at the same government print shops as men's? Aren't the securities markets used by our husbands, fathers, and grandfathers the same markets our daughters and granddaughters use for their 401(k)s and 529 plans? If yes, then why is there a need to differentiate when speaking about the fairer sex in regard to their money and investing?
I believe the basis for this answer is, whether perceived as good, bad, or indifferent, many women think and act differently from "male investors" when it comes to investing and planning for their personal financial future. Even though in 2015, women held 51% or $14 trillion of the nation's personal wealth, and that number is expected to rise to $22 trillion in 2020*, investing and financial planning is still not a priority or not a comfort zone area for many women. During planning and review meetings, the husband or male partner will usually take the lead, and the wife or female partner chooses to sit on the sidelines as a spectator and not a player. Men need to continue to be strong planners and good stewards with their resources, but it is not a single player sport. There is room for everyone on the team. The household CEOs, CFOs, and caretakers, which are often women, need to fully engage. No one should solely rely on another person for their future financial security. 
Every woman, regardless of marital status, education, or income level, should make her finances and continued financial education a priority on her to-do list. Some of the biggest hurdles prohibiting women from sitting down with a financial advisor, or building a team of professionals to help her achieve her goals, are dread, fear, or embarrassment due to lack of knowledge, or simple procrastination. These factors are almost never an issue for their male counterparts.
"Every woman, regardless of marital status, education, or income level, should make her finances and continued financial education a priority on her to-do list."
Avoiding an initial planning meeting with a financial advisor is much like avoiding a car at 16 years old because you don't know how to drive. Women will never learn until they get behind that wheel. The first step is almost always the hardest. But, once a woman makes up her mind, and takes that initiative to educate herself and start building her team, there's no limit to her potential success.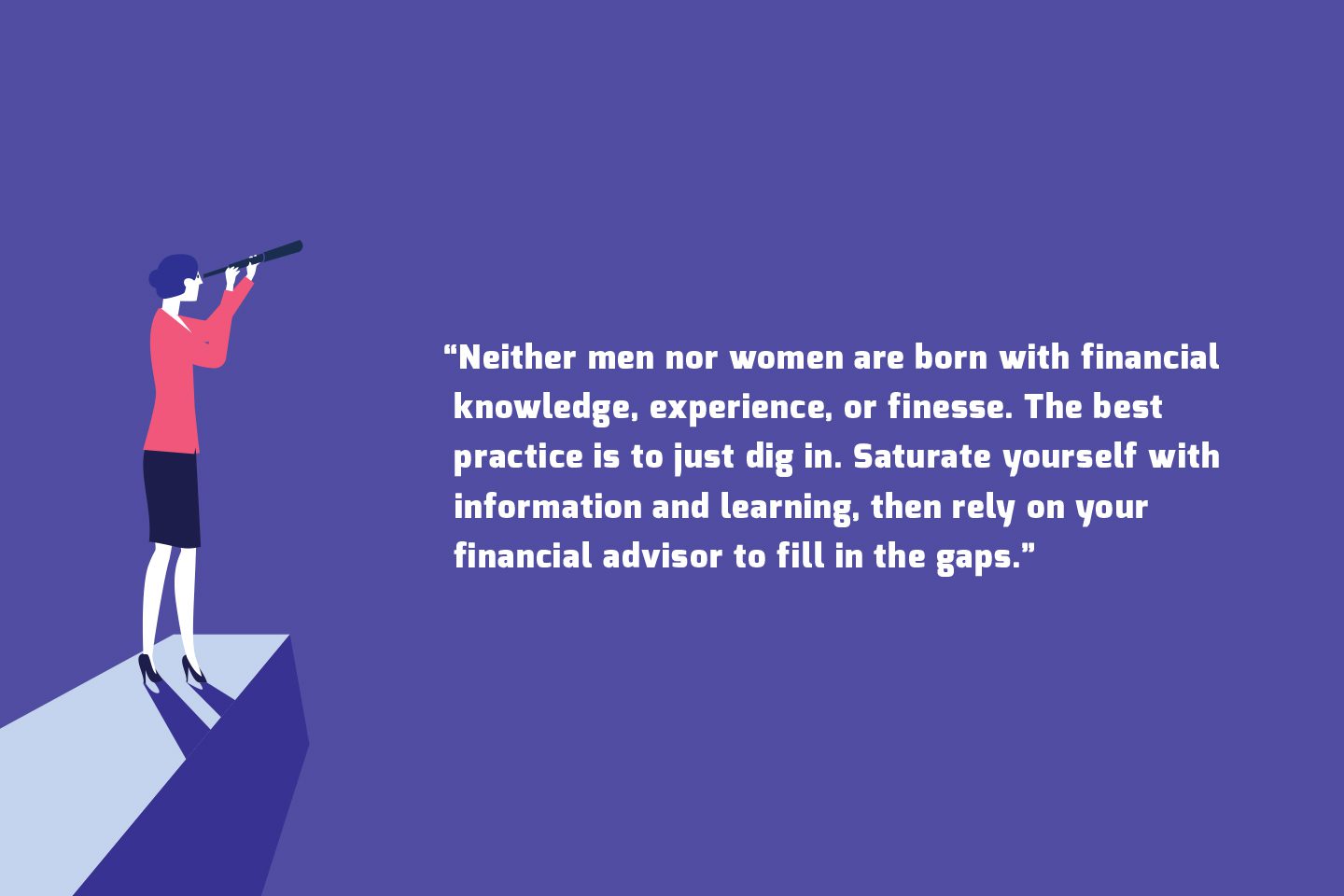 Building a team to work on your personal and professional goals is paramount to smart financial planning. This could include a financial advisor, an attorney for estate planning, a CPA for accounting and tax planning needs, and possibly a life or professional coach for fine-tuning those minute points which make up who you are. Women are natural collaborators. Building a team is simply honing in on those natural strengths.
Once that team is in place, setting goals is the first step in creating a strong personal financial plan. Take the time to really discover exactly what your dreams are when it comes to your financial goals. Once those are established, communication is the key to success. Communicate those goals to your spouse, partner, financial advisor, and any other member of your team. Full, uncensored communication will open doors to more discoveries along the way as well as help you learn more about yourself.
As women begin to build deeper relationships with their financial advisors or other professionals, some have reported feeling very misunderstood or irrelevant. They also claim at times to feel intimidated because of a lack of knowledge and/or education. Finances and investing are much like any other topic we may research and learn over time. Neither men nor women are born with financial knowledge, experience, or finesse. It is learned no matter your gender. The best practice is to just dig in. Saturate yourself with information and learning, then rely on your financial advisor to fill in the gaps. The old saying from our school days, "There is no such thing as a dumb question," is still as true today as it was then. Read, listen, and ask questions. If you don't know, ask. If you still don't understand, ask again. If the advisor and other professionals you are working with do not encourage this behavior, consider finding new ones who do. Your time with your professional team members should be as comfortable as having coffee with a good friend.
As previously mentioned, money and investing at their core are gender neutral. There's no reason why women shouldn't jump in and take control of their financial future!
* BMO Financial Group, "BMO Report: Despite Controlling $14 Trillion in Wealth, American Women Still Have Challenges to Overcome," MarketWired, April 2015, http://www.marketwired.com/press-release/bmo-report-despite-controlling-14-trillion-wealth-american-women-still-have-challenges-tsx-bmo-2006435.htm
Raymond James & Associates, member NYSE/SIPC
Views expressed in this newsletter are the current opinion of the author, but not necessarily those of Raymond James & Associates.  The author's opinions are subject to change without notice.  Information contained in this report was received from sources believed to be reliable, but accuracy is not guaranteed.  Past performance is not indicative of future results.  Investing always involves risk and you may incur a profit or loss.  No investment strategy can guarantee success.