"Change before you have to."

– Jack Welch, Former Chairman & CEO of General Electric
Our world is constantly changing, and to stay a leader in your industry, you have to be the company leading the change. However, leading industry change first requires leading change within your business – and that is no easy thing. Whether it's a merger with another company, a new system, compliance changes, or new branding, change has to be managed carefully. Hear from local leaders about the best practices for leading and managing change within companies.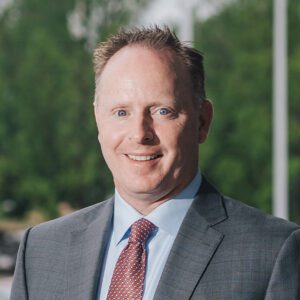 Todd Dyer
General Manager,
Marshal Mize Ford, Inc.
How do you lead change in your business?
At Marshal Mize Ford, we don't have employees working for an employer. We have a team, and we work together – from the sales floor to the body shop. As the store's general manager, leading our team through change requires listening and communicating with everyone in the building – including our customers. We recently embraced a change to better benefit our clients and our business on a digital level. We listened and understood the restrictions that traditional consumer shopping held for our customers, and we now have extended our services and products digitally to customers.
How do you influence day-to-day process changes?
I influence day-to-day process changes by being involved every day. I work closely with all my managers and their departments and know what is going on at all times. Successfully managing a business can't be done from an office away from the daily activities and operations. Our line of business is consistently active and fluid with changes from every angle. Balancing these changes and staying on a positive path is key to our success.
What is your best advice for someone about to go through a big change?
Stay connected to your employees and customers. When you listen to your customers and consistently communicate with your team the company's plan for growth and success, it builds confidence and allows you to do your job as a leader.
Patty
Martinez
Regional Director of Operations,
Vision Hospitality Group, Inc.
How do you lead change in your business?
The Greek philosopher Heraclitus is famously quoted as saying: "The only constant is change." If you understand that, you are better equipped to lead change. In the world of hotel management and operations, adapting to evolving and increasing customer service expectations is standard. I focus on facilitating active dialogue with my team to ensure they understand the methodology behind the change as well as the implications.
How do you influence day-to-day process changes?
Daily pulse checks are essential. Process change is facilitated more successfully through increasing communication to the field, soliciting feedback during key initiative deployment, providing emotional deposits when making marked progress, and overcoming obstacles.
What is your best advice for someone about to go through a big change?
Communicate clear objectives and involve the team in key decisions early on to reinforce personal investment in the change. Pivot quickly by focusing on transparency and opportunities through critical feedback. Analyze the pros and cons prior to, during, and after the change initiative occurs to redirect, refocus, and reignite team morale.
What are your best practices for change management?
Change management is realized through successful delivery and demonstration of "change leadership by example." Approaching change as an opportunity rather than an obstacle will help to improve speed and efficiency, eliminating confusion in the field. The team will be invested in the change initiative(s) if they see you, as the leader, equally invested through your consistent support and leadership by example.
Anthony
Houston
Chief Operating Officer,
CHI Memorial
How do you influence day-to-day process changes?
An approach I use is called Appreciative Inquiry, predicated on providing a hopeful and positive vision for the future. When I round, my first question is, "What is working well?" I find it can put some people off, as they want to tell you what isn't working well. Those opportunities will likely emerge, however, but starting with the positives sets the right tone for leading through any change.
What is your best advice for someone about to go through a big change?
Don't be afraid to fail. Be open to the lessons learned to get better – and get better faster. Another approach – slow down to speed up. Often, change can bring a flurry of activity, and stress often clouds reason. I like to slow down; reflect and review; then make decisions. Often, my most successful change leadership examples have come when we took the time to slow down and fully appreciate the work before acting. That said, there is a balance. Taking too much time might thwart an opportunity. It's certainly more art than science.  
What are your best practices for change management?
Change is hard! Leading change might be even harder! A mentor provided sage advice to me – be authentic and transparent. Communicate clearly and often. Don't be afraid to deliver bad news; however, as mentioned earlier, lead with the positive. People are resilient. The human spirit is strong, and good people who feel compelled to do good work for the good of all can accomplish much. 
Mike Sarvis
Market President,
Synovus
What is your best advice for someone about to go through a big change?
This is my 30th year in the banking industry, and the pace of change has never been more accelerated or aggressive. The external change is significant and constant – technology, competition, and regulation. The rate of internal change to address the competitive forces is ever-present as well. I often joke that behind death and taxes, the only guarantee in banking is that things will change! In leading through this state of perpetual change, the greatest advice I can share with other leaders is to be transparent and honest.
What are your best practices for change management?
Change impacts individuals and teams differently, and taking the time to be cognizant of that is critical. Share as much as you possibly can with your teammates – when the change is positive and when it's difficult. Try your best to relate the change to personal impacts to ease anxiety and frustration. The way you lead through change is a direct parallel with the culture of your company. When you have strong trust built within your core culture, great teams make leading through change much easier. And there is no such thing as over-communicating. Communicate early and often. When you think you've communicated enough, communicate some more. 
Julie Boerger
Vice President & Chief Compliance Officer,
BlueCross BlueShield of Tennessee
What is your best advice for someone about to go through a big change?
It's important to clearly define why you're changing, what you want to do instead, and how you plan to accomplish that change – being specific from the beginning is essential to success. Regardless of the complexity, the fundamentals of any successful change involve defined goals, clear and effective communication, a well-designed process, and a means to measure and verify success or participation once the change has been executed.
What are your best practices for change management?
Identify your different stakeholders, engage with them early, and consult with them often. These individuals and groups can help you fully understand the impact of a proposed change and may be able to serve as advocates. Be sure to include every business unit who could potentially be impacted – it's better to be overly inclusive on the front end than to try to add constituents into the process after it's begun. Pursue change in stages – make sure you're not trying to modify every process or rule all at once. Whenever possible, follow your industry's best practices for timing. If training will be required as part of your change, use scenarios that fully apply to your different stakeholders so that your audiences understand how it might affect them and why following new regulations or processes is important. Once the change is complete, take the time to audit your process – look at what went well and what could be improved for next time.
Jack Sherman
Sales Center Manager,
Coca-Cola Bottling Company UNITED, Inc.
How do you lead change in your business?
In order to lead through change, we must first understand that change, for the most part, has a negative connotation to many. To combat this, we must make sure that we have an effective plan and then effectively communicate it. We must set clear expectations so that our associates understand how these changes will affect them day to day. In the end, we must operate with integrity and communicate openly. We must understand that all change has intended consequences and unintended consequences. How you deal with the unintended consequences is what people will remember about you as a leader.
How do you influence day-to-day process changes?
As leaders, it is our job to give our sales associates the tools they need to successfully complete the task at hand. This goes for process changes as well. Process changes should address four key areas: safety, productivity, profitability, and morale. Rarely does change positively impact all four of these areas. Therefore, we must communicate the how and why of these changes effectively.
What are your best practices for change management?
Start with the 'why' and the 'how.' Why am I trying to change, and how am I going to implement the change? Then make sure it is communicated to your people so that they feel comfortable with the change. Change management does not stop once the change happens; in fact, that is only the beginning. The biggest key to leading through change is listening to your associates and understanding how the change is affecting them.
See Related Article: