Without direction, an organization will fail. Every good leader has a vision for where their company or business is going, but communicating that vision to your team and getting their buy-in is another skill altogether. Vision has to be shared in order for it to inspire, motivate, and focus work.
Read on to hear how these local leaders are creating vision and inspiring their employees.
Christy Gillenwater
President & CEO,
Chattanooga Chamber of Commerce
What is your vision for the Chamber?
As a team, we work diligently to promote regional economic development and serve our more than 2,000 members. We've also collaborated with community partner organizations and leaders to spearhead the Velocity2040 community visioning initiative. Velocity2040 involved collecting community input from more than 4,800 area residents to inform its vision and Chattanooga Climbs five-year talent and economic development plan.
How did you form the Chamber's vision statement?
Our organization's vision aligns with the community's vision shaped through the Velocity2040 community visioning process. We're striving for collaboration, inclusion, a thriving economy, business expansions, job opportunities for all, and a future ready workforce. We want to ensure that Chattanooga is a wonderful place to live where adults and students alike have thriving career opportunities because they've been equipped with the necessary skills.
How do you engage your employees so they feel part of the vision?
The Chamber's team members and volunteers genuinely care about our community and take ownership of our Velocity2040 goals. We strive to embody our vision in our daily work and strive to empower our team to use their expertise to make decisions that drive us toward our vision. We work alongside many volunteers, so we prioritize setting a positive tone and ensuring our actions match our words.
Hiren Desai
President & CEO,
3H Group, Inc.
How do you communicate vision to your team?
We have a monthly NETMA (Nobody Ever Tells Me Anything) meeting that allows every team member to give updates on their responsibilities. It keeps everybody in the loop as we pursue our goals.
What is your vision for 3H Group?
About 18 months ago, in our NETMA meeting, I presented to our 3H team a new strategic plan of transitioning from being primarily a hospitality company to that of a full-fledged real estate development and management company.
How do you create buy-in from your team?
We are still in the process of executing our new path as shown by the diversification of our portfolio, and I have been very fortunate with the team that has been assembled. The core of the team at 3H has had a very long tenure, and they have always been open to changes and challenges. This attitude and teamwork will make for a fun and enjoyable journey as we continue to execute our plan.
How do you engage your employees so they feel part of the company's vision?
Happy employees are more likely to be engaged in the company's vision. Creating a positive environment is important and a work in progress, but we try to provide gatherings for our employees like golf tournaments, conferences, seminars, luncheons, and quarterly social gatherings, so they truly feel a part of our company.
David Wade
President & CEO,
EPB
What is EPB's vision?
As a technology company that operates for our community's benefit, EPB's vision focuses on providing world-class technology solutions to help our customers stay ahead. This is particularly important right now because the energy and connectivity industries are undergoing unprecedented change. That's why EPB pioneered America's smartest smart grid driven by the world's fastest internet.
Obviously, this creates tremendous new opportunities for our customers. For example, we recently tripled our starting internet speed to 300 mbps at no extra charge.
At the same time, as groundbreaking options for energy, communications, entertainment, and home automation become available, many customers may not have the time to research all their choices.
With this in mind, EPB's vision combines continuous innovation with an unwavering commitment to customer service, whether that means supporting their current services or helping customers navigate new offerings.
How do you communicate vision and engage the team?
We start with 'why' we're implementing a new technology or bringing a new offering to our customers. Because everything we do is driven by a mission to benefit our customers and the community, our employees always have a touchstone to guide their everyday efforts. In addition, we always strive to communicate to our employees about how past initiatives have provided value to the community, so they will see how future efforts will provide a positive impact.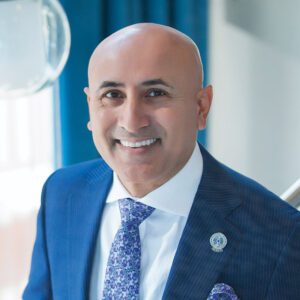 Mitch Patel
President & CEO,
Vision Hospitality Group, Inc.
What is your vision for Vision Hospitality Group?
Early on, I realized our associates are the heart and soul of what we do. We are not in the real estate business but rather the people business. Our culture is a reflection of this as we focus on building a value-driven team that shares in one common vision: to be the best, most respected hotel company in America. 
How do you create buy-in from your team?
First, it is important to surround yourself with people that share your values and beliefs; then take care of them. You can lead out of either fear or mutual respect, and we strive for the latter. It can be truly amazing what a fully engaged team can accomplish when you are all rowing in the same direction with one common purpose, one common vision.
How did you create your company's vision statement?
Many years ago, we simply asked ourselves this question: "What do we want to be known as?" An organization's vision should be simple and bold because as Michelangelo once said, "The greater danger for most of us is not that our aim is too high and we miss it, but that it is too low and we reach it." Your entire organization should fully understand it, embrace it, and believe in it.
Darrel Harris
CEO,
Xpress Global Systems
What is your vision for Xpress Global Systems?
With a never-ending focus on continuous improvement to our core competencies, at XGS, we develop our services to meet a broader range of our customers' needs, while creating an environment of learning and growth for our people.
How did you form XGS's vision statement?
We are in the service industry, so it was critical that our vision was in full alignment with the needs of our customers. We listened to our customers and our employees to understand what the 'end state' should look like, then we built the vision statement around it.
How do you create buy-in from your team?
It starts with communication. Everyone needs to understand where the company is going and why, along with their specific role in helping the company achieve success. Most people want to do a good job, so the pressure is on leadership to define success and communicate throughout the journey. 
How do you communicate that vision to your team?
The vision statement of the company is visible in all facilities. Most recently, we have been working on additional strategies to reinforce this through video and our company intranet.
Paul Conn
President,
Lee University
What is your vision for Lee University?
That at every level of the university, all our work is ultimately student-focused.  We expect our students to make an impact in the world, and so the investment we make in their lives can have exponential and eternal results. 
How do you create buy-in from your team?
We challenge them to ask themselves if this is the kind of work that strikes a chord in their hearts, and if it does, we support them in every way possible.
How do you communicate that vision to your team?
Our vision percolates through the chain of command, as with many companies. We emphasize many types of gatherings of the whole Lee family, like chapel, commencements, and numerous major annual and semi-annual events. We also have art, publications, and other Lee-related materials that point back to the principles that guide us. Even the cornerstones on all the buildings we have built – more than two dozen buildings in the last 30 years – have a scripture reference, Psalm 90:17, which speaks to the permanence of the work we do. This verse is a prayer that God's favor will be with us, and that he will "establish the work of our hands." All of us, and even our buildings, will get old and feeble over time, but the work we do, the real work, is in students' lives and will endure long after those stones crumble to dust.
Angel Moore, Esq.
CEO,
Erlanger Community Health Centers
What is your vision for Erlanger Community Health Centers?
My vision for Erlanger is to be a safety-net health organization committed to patient-centered quality, affordable health care access, and services that will allow every patient to achieve his or her full potential for health and well-being.
How did you create your organization's vision statement?
I integrated our core values, our patient experiences, staff focus groups, and the most prominent practices in top-performing, highly reliable health care organizations worldwide.
How do you create buy-in from your team?
I create buy-in from my team by first exercising servant leadership. There is no task too small for me to engage in, and I will never ask staff to do anything that I'm not willing to do myself. I try to create an environment of open communication, idea-sharing, and inclusion. Moreover, I allow their voices to be heard and their input to be transformed into corporate action. Everyone matters, and everyone is valuable. 
How do you engage your employees so they feel part of the organization's vision?
I carve out time to visit all of our facilities so that I can interact face-to-face with staff. I share new concepts and ideas with leadership and staff to gain their insight and feedback. I exercise an open door policy; however, when the schedule becomes demanding, I have trained my leaders and support staff to spend time with staff to allow them to provide feedback. We also conduct surveys and focus groups for cumulative employee data and input.
Rick McKenney
President & CEO,
Unum Group
What is your vision for Unum Group?
Our vision is to be the leading provider of employee benefits that help workers protect their families and livelihoods.
How do you create buy-in from your team?
Creating buy-in is an ongoing process, and our team plays an important role in determining our direction. Shaping our vision together engages employees while creating a sense of ownership along the way. To shape our vision as a team, we work to foster an inclusive culture where the diverse backgrounds and perspectives of our employees are heard and valued. This diversity of perspective and new ways of thinking from our employees help us better serve the millions of people and families we protect. We also listen to employees. We provide forums where they can give feedback directly to me, and employee surveys help us ensure Unum's culture and overall engagement are strong.
How do you engage your employees so they feel part of the company's vision?
Our employees aren't just part of shaping our vision, they bring our vision to life. The best way we can keep employees connected to our vision is to regularly tell stories that highlight their impact on the businesses and people we protect. Examples of how we do this include sharing customer testimonials at every opportunity, from all-employee meetings to small groups, and celebrating employees who go the extra mile to help people during a time of need. Hearing stories about the impact our work has on people is an inspiration to pursue our vision together.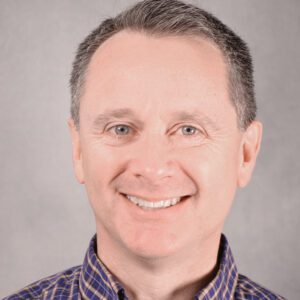 John Zeiser
President & CEO,
Southern Champion Tray
What is your vision for Southern Champion Tray?
Southern Champion has a vision statement like most companies, but our vision has never been primarily focused on where we are going as much as how we will get there. Our fundamental brand is service that seeks to value people and glorify God. We strive to live out our core values: Trustworthy, Servant-hearted, Relational, and Resourceful. Those qualities have their foundation in the character of God, and they have carried us pretty well for 92 years.
How do you engage your team members so they feel part of the company's vision?
We talk about our core values a lot. You can hardly turn around at SCT without seeing them. The core values are our basis for hiring decisions, performance reviews, and team member development. When you bring in good people, you don't have to spend a lot of time training them on the vision. They figure out pretty quickly that it's really about genuinely caring for people and being helpful. We don't get it right 100% of the time, but we absolutely aspire to live out those values 100% of the time; and more often than not, we see good results. We're grateful for a fantastic group of people who call SCT home. As we have grown, we have increased our training and communication through mentoring and leadership development processes to continually underscore how important people are and how to incorporate our core values into daily leadership and personnel development.