By Candice Graham

Who They Are: Cameron Doody and Stephen Vlahos (pictured above)
What They Started: moving company Bellhops
Friends since: 2005
Stephen Vlahos and Cameron Doody met as fraternity brothers at Auburn University.
After knowing each other for years, they'd built the trust it takes to build a strong business. "If you don't have trust on the front end, it can really slow down the growth of the company. You might not be able to make decisions as fast, you can't delegate as quickly, and you don't know the other person's skill set," Stephen says. "We were lucky to have that foundation."
Since the pair knew they wanted to start a business together, they began brainstorming ideas soon after finishing college. The idea for Bellhops was soon hatched, and in 2011, the company officially launched.
"We have different skill sets, which has been a total blessing," Cameron says. Describing Cameron as energetic and charismatic, Stephen says he's more analytical and reserved. Together, they complement each other in a way that allows them to easily balance friendship with business.
While they agree it's hard to say how much of their success relies on their foundation of friendship, they say it definitely played a factor. "It would have been really easy to give up on someone that you didn't have an emotional attachment to, but since we know each other's history, it kind of forced us to stick it out," explains Stephen.
Together they've grown Bellhops to serve more than 100 cities nationwide, and they feel grateful to be able to experience success. "We've been lucky on a lot of different levels," Stephen says.

Who They Are: Amy Mace and Amanda Carmichael
What They Started: Public relations firm Mace+Carmichael
Friends since: 2007
Before diving all the way into a business partnership, Amy Mace and Amanda Carmichael were able to test the co-worker waters. Originally hired by the same employer, they got to know each other and became friends while working at the same company. Soon after, Amy went back to school to get an MBA and Amanda pursued a position at another company. When the friends began collaborating on a freelance project, the prospect of forming their own business seemed very appealing.
"I think Amanda and I both encompass an entrepreneurial spirit, and starting our own business came about naturally. We'd been working on so many freelance projects over the years that we had a really strong client base already, so starting Mace+Carmichael put a name on what we were doing," Amy says.
As for balancing their friendship with their business relationship, Amanda and Amy have it down to an art. "We talk on the phone with each other on the way to work and catch up on personal things. Then when we get here, it's all business," Amanda says. And they both attribute a high level of honesty and comfort as being one of the top advantages of working together.
"We push each other to be more creative and come up with better ideas, and the end result is better work," says Amy. Adds Amanda, "We are partners and friends who work together really well, and I think it's our friendship that keeps our business strong."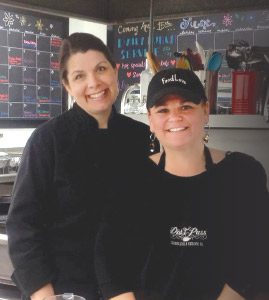 Who They Are: Amanda Varnell and Sarah Hooper
What They Started: Catering company Dish T'Pass
Friends since: 1989
A quarter of a century of friendship and a common passion for food set the foundation for Amanda Varnell and Sarah Hooper's boutique catering company, Dish T'Pass. After living in different cities for several years, the pair crossed paths again in Chattanooga, and Amanda invited Sarah to join her business by teaching cooking classes. Six months later, Dish T'Pass was officially launched.
"Sarah's talent was always to take a recipe and add two or three things to make it better. And my talent was just the opposite—to look at a recipe and say 'how can I eliminate some of these ingredients?' Together we have all the bases covered," says Amanda. The friends credit a deep understanding of each other's strengths and limitations as one of the advantages of working with one another. "You know their personal life, so you know when to give space. It's easy for you to step in and do more when you need to because you have a genuine affection for that person," Sarah says.
With a full range of food services, Amanda and Sarah staybusy but always try to keep things lighthearted. "We laugh a lot, even when it's really bad. That's when we laugh the most, probably," Amanda says. Sarah echoes, "The best part about working together is that we're building something that will benefit ourselves and our families, and we have a lot of fun doing it."

Who They Are: Dawson Wheeler and Marvin Webb
What They Started: outdoor gear and clot hing supplier Rock/Creek
Friends since: 1974
It was the mid-seventies when Baylor students Dawson Wheeler and Marvin Webb mused over what they wanted to be when they grew up. They dreamed of being in the outdoor industry, but soon went off to college as their paths headed different ways.
When Dawson was in his early 30s, he purchased a store in Chattanooga called Canoeist Headquarters. As chance would have it, he soon got an unexpected visitor from the past. "Marvin showed up within a month of me buying the company. He asked if I remembered the conversation we had when we were younger, and one thing led to another and we decided to go into business together," Dawson explains.
According to Dawson, he and Marvin complement each other's skill set tremendously. "We're very yin and yang," Dawson says. "People reference us from time to time in that way."
Today, Rock/Creek has five locations (with a sixth opening in August) and has expansion on the horizon as they look to metro areas within 200 miles of Chattanooga. But Dawson and Marvin's biggest goal is to foster the legacy of their company. As for the success they've experienced throughout the years? Dawson owes it all to working with his closest, lifelong friend. "No way would Rock/ Creek be Rock/Creek today if he and I weren't partners," Dawson says. "It's not possible."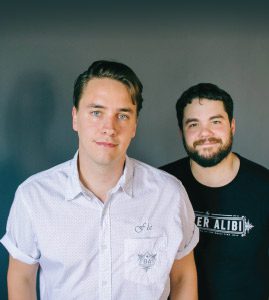 Who They Are: Jason Bowers and Matt Skudlarek
What They Started: Houston Street watering hole, The Bitter Alibi
Friends since: 2012
It probably happens all the time—two guys, hanging out over beers, daydreaming about opening a bar together. But what makes Jason Bowers and Matt Skudlarek's story different is that nine days after chatting about opening a bar, they signed a lease to make it a reality. After meeting years before in the exact location of The Bitter Alibi (it was previously two other bars), they became close friends with big ambitions.
"We would go to the previous bar a lot, and I knew the guy who owned the building and the bar inside. I sent him a text message kind of saying 'what if?' An hour later he asked to meet the next day,'' Matt explains. Once the lease was signed, they started working nearly around the clock making the space what it is today. Friends (as well as strangers!) came to help revamp the basement-bar, which has been such a hit that the duo has expanded to include a breakfast and lunch spot upstairs.
Jason, a restaurant industry veteran since high school, has experienced every job from dishwasher to manager. Matt previously owned St. Elmo coffee shop Pasha, bringing his expertise in business ownership and customer service to the table. Together they knew they could make The Bitter Alibi a success.
"It helps when there's a mutual respect for someone. We were friends before this, and we want to continue to be friends after,'' Matt says. "I think all the time that we really lucked out.''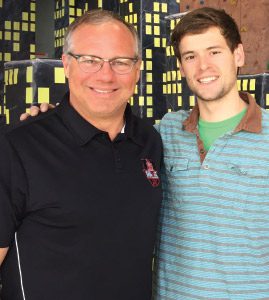 Who They Are: Johnny O'Brien, Jr. and John Wiygul
What They Started: High Point Climbing and Fitness
Friends since: 2008
Endurance athletes Johnny O'Brien and John Wiygul met at a triathlon years ago. With their similar drive and determination, coupled with a goal-oriented and competitive spirit, they clicked instantly. So much so that when John was a senior at UTC pursuing his degree in entrepreneurship, Johnny approached him with a plan: come up with a business idea, and I'll back you financially when you graduate.
Throughout John's senior year, he and Johnny collaborated on a project for what would become the ninth-largest climbing facility in the U.S., High Point Climbing and Fitness. "We decided to develop a premier climbing facility. With the downtown location, we knew if we could obtain a small percentage of Chattanooga's tourists visiting and get a good membership base, we could have a strong business," John explains.
They soon set to work creating a facility that is not only a fun place to spend an afternoon, but also an iconic piece of artwork for the city. In 2015, High Point was named by Climbing magazine as "the country's coolest gym."
John and Johnny say that for a partnership to thrive, it's vital to work with someone you enjoy being around and share similar interests. "Running a race and starting a company takes a lot of commitment, dedication, perseverance, and a competitive nature," Johnny says. "I saw all those things in John as we were training and racing together, and I knew he'd be a great business partner."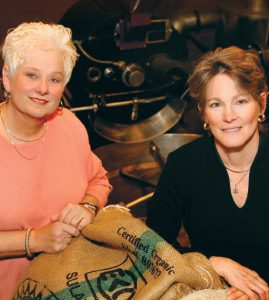 Who They Are: Evelyn Wheeler and Eileen Mason
What They Started: Chattanooga Coffee Company and Chattz
Friends since: 1993
For 22 years, Evelyn Wheeler and Eileen Mason have owned a tourism company, taking travelers on explorations of the Middle East. When business was crippled after 9/11, the friends decided to supplement their income with a new endeavor.
"Because of our traveling, we stopped a lot in Europe. Europe has great old coffeehouses and a great tradition of coffee," Eileen says. "The whole specialty coffee movement was just getting started, but it hadn't hit Chattanooga yet." Not wanting to completely shut down their tourism company, the friends decided to move forward with plans for a coffee shop.
The pair leased a property on Market Street, and Chattz has called the location home for the last 13 years. The roasting branch of their business, Chattanooga Coffee Company, roasts all the coffee for Chattz's three locations.
The most rewarding aspect of co-ownership for Eileen and Evelyn has been the relationships forged with customers throughout the years. "There are still people who walk into our store who have walked into it every day for more than 12 years," Eileen explains. "They've encouraged us when it's been discouraging, and they've shown up when you thought no one was going to."
With a loyal group of regulars and more than a decade in the business, the pair still hasn't lost the sense of wonder that goes along with being an entrepreneur. "We've been in business together a long time, but we keep finding ourselves in situations that make it feel like day one," Eileen says. "There's always a new challenge."