By Julia Sharp
Much has changed between 1816 and 2016, but one thing has remained the same: Chattanooga's entrepreneurs continue to power the city's economy. They've identified new markets, created innovative businesses, employed thousands, and lit the way for future generations. While it's more than can be completely told in one article, the following is a showcase of two incredible centuries of successful entrepreneurs. In the face of wars, depressions, and massive socioeconomic change, business builders and generations of families – still known and revered today – braved the uncertainty of a new business venture, succeeded impressively, and contributed greatly to our community.
1816 to 1865:

Chattanooga's Earliest Entrepreneurs
Nestled in the Appalachian Mountains, the Chattanooga area was difficult for early settlers to reach. This all changed in the 19th century when new opportunities emerged from a trading post on the river, steamboat technology, and national railroad networks. In 1849, the Western and Atlantic Railroad built a depot in Chattanooga. The Nashville and Chattanooga Railway was also completed by 1854. The development of river and rail transportation paved the way for future entrepreneurs.
Among Chattanooga's first innovators was John Ross. In 1816, he established a trading post and ferry service on the banks of the Tennessee River. His successful businesses allowed him to purchase an estate in North Georgia where he later started a tobacco farm. For much of his life, he served as an advocate for the Cherokee nation, first opposing the Trail of Tears and then leading the Cherokee during their resettlement in Oklahoma.
Another early entrepreneur was Thomas Crutchfield Sr., who moved to Chattanooga in the 1830s and served as mayor of the city beginning in 1849. He was a keen businessman and opened the Crutchfield House, a hotel today known as the Read House, which was an important meeting place for civic and community leaders during the city's foundation. His first son, Thomas Crutchfield Jr., was elected mayor in 1859 and established a successful general store on Market Street after the Civil War. His second son, William, represented Tennessee in the U.S. House of Representatives, then helped form Chattanooga's fire and police departments. For more than a century, the Crutchfield family continued to serve the community through various federal, state, and city political offices.
Robert Cravens was also a pioneer in Chattanooga's initial development. After learning about iron manufacturing from his uncle in nearby Rhea County, he organized the Bluff Furnace and East Tennessee Iron Manufacturing Company in Chattanooga. The company was considered to be the South's first successful iron producing operation, using a blast furnace fueled by coke (processed coal). Like so many
entrepreneurs to follow him, Cravens gave back to the community. After the Civil War, he and other business partners helped return the Wiley Methodist Memorial Church to the congregation after it was used for a military prison and hospital. In the late 1970s, the building was restored and is now the Bethlehem-Wiley United Methodist Church, which still stands on Lookout Street in downtown Chattanooga.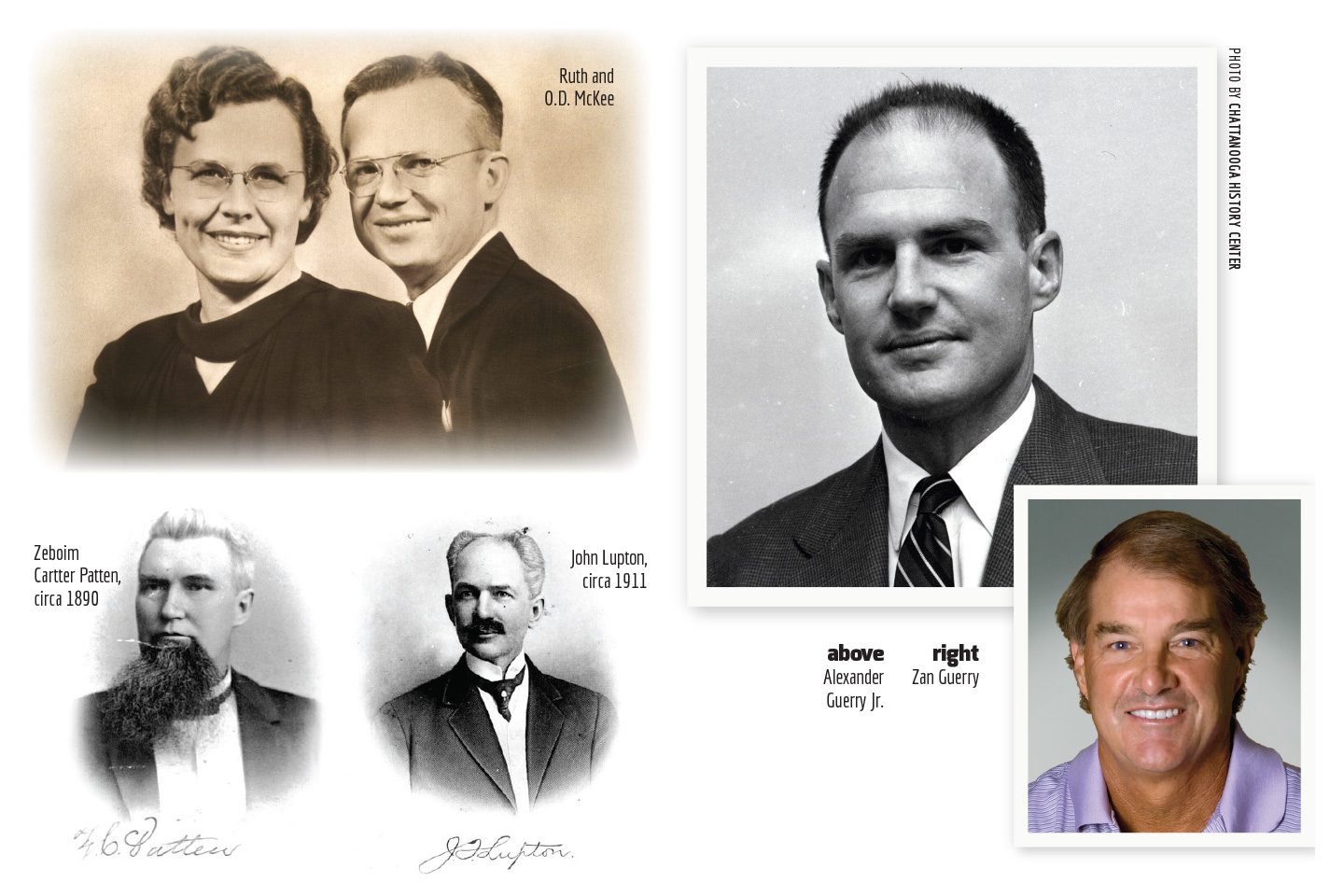 1865 to 1925:

Chattanooga's Greatest 60 Years – Setting the Stage for Future Innovators
After the Civil War, the Industrial Revolution that modernized the Northeast in the early 1800s finally reached the South. Nearly 20 railway lines passed through Chattanooga, offering entrepreneurs access to innovative manufacturing technologies and processes, as well as new markets. The Reconstruction Era brought a burst of new businesses as entrepreneurs seized opportunities to fill the region's industrial void and provide services needed to support a growing population. Among many industries, markets emerged for steel, medicine, insurance, furniture, textiles, banking, newspapers, electric motor maintenance, snacks, carbonated beverages, and more. Over six decades, numerous individuals and families would establish businesses that set the stage for the next century of innovation and prosperity in Chattanooga.
A series of National Bank Acts were passed between 1863 and 1866 to establish a national currency. With new regulations that provided more security to the banking industry, the number of nationally chartered banks began to increase. Family names still familiar in Chattanooga's business community started First National Bank in 1865, and among the bank's first directors and shareholders were William Rathburn, T.R. Stanley, Thomas and William Crutchfield, Theodore Montague, Charles Stewart, and John King. In 1905, First National Bank and Chattanooga National Bank consolidated to operate as First National Bank of Chattanooga. Some of the original directors included Thomas H. Payne, John Lupton, and Hiram S. Chamberlain. The bank closed during the Great Depression after a severe acceleration of withdrawals in March 1933.
Another historic institution was formed in 1905 when Thomas and Charles Preston organized Hamilton National Bank. After absorbing the South Chattanooga Savings Bank in 1929, Hamilton National Bank continued to prosper until suffering substantial real estate loan failures during the 1970s. First Tennessee Bank, which was established in 1864, purchased Hamilton National Bank's remaining assets at auction in 1976. First Tennessee Bank is currently one of the region's most prominent banks and formed the First Tennessee Foundation in 1933. Today, this charitable organization still supports the arts, education, environment, financial literacy, and health initiatives in Chattanooga.
Harry Probasco moved to Chattanooga to pursue a banking career in 1885. Three years later, he opened a financial brokerage firm called Wiehl, Probasco and Company. When many banks closed during the Panic of 1893, deposits in Probasco's bank increased as the business acquired assets from liquidated banks. Wiehl, Probasco and Company was chartered in 1900 and renamed Bank of Chattanooga. By 1912, Chattanooga still didn't have any trust banks, so Probasco opened American National Trust and Banking Co. with his son Scott Livingston Probasco and business partner E.Y. Chapin. Today, this company is known as SunTrust Bank and has nearly 1,500 branches with assets totaling $194 billion. For more than 100 years, the Probasco family has given generously to support Chattanooga's community through several different Christian and educational organizations.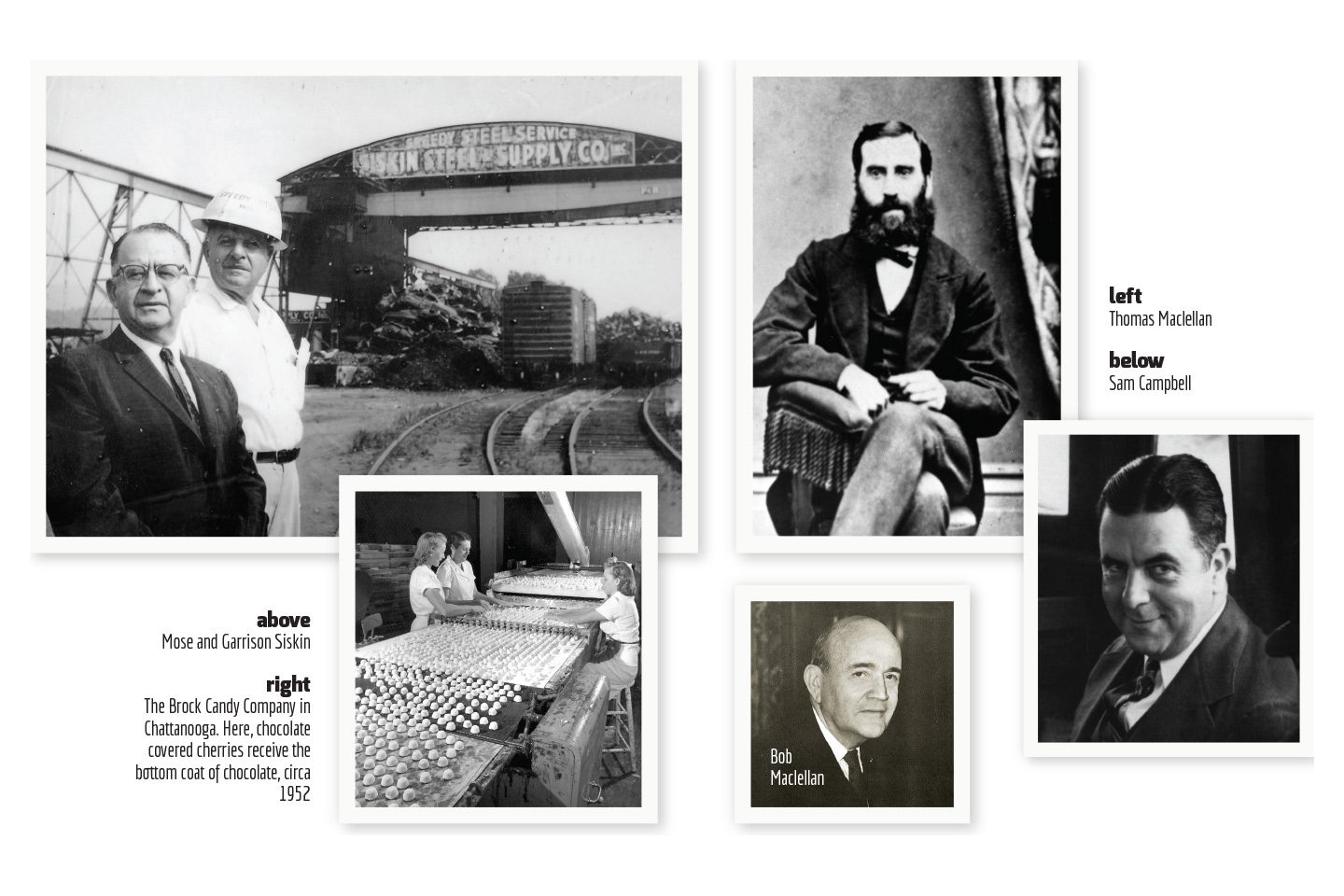 Civil War veteran Zeboim Cartter Patten opened the  Chattanooga Medicine Company in 1879 with the innovative idea to produce and promote quality health products for mass distribution. In 1903, he ran John Lupton's Stone Fort Land Company (now Luken Holdings) and was responsible for developing Hotel Patten, downtown Chattanooga's first skyscraper. His two nephews, John A. Patten and Zeboim Charles Patten, managed the company until 1939. John's grandson Alexander Guerry Jr. joined the company in 1945 and served as Chattem's president for 32 years until his son Zan Guerry took over from 1990 to 2014. Today, Chattem is owned by the French company Sanofi-Adventis and is one of the city's top employers.
Both the Patten and Guerry families have given generously to the Chattanooga community. The Patten family promoted the city's advancement through higher education, and Z. Charles was chairman of the committee that raised the initial $1 million endowment fund for the University of Tennessee at Chattanooga. This legacy can be seen on campus today in the beautiful Patten Chapel, donated by the family in honor of John A. Patten. The Guerry family continues to promote Chattanooga's advancement through the Hamico Foundation, which supports organizations involved with arts, culture, education, health, and athletics.
In 1869, Thomas Kirby and Patton Gamble began The Chattanooga Times. After an unsuccessful attempt to launch the Chattanooga Dispatch at the age of 20, Adolph Ochs purchased an interest in The Chattanooga Times. By 1882, Ochs owned it outright. The Chattanooga Times operated as such until 1998 when it was purchased along with the News Free Press to form the Chattanooga Times Free Press – as it is known today. For more than 130 years, the Ochs family has contributed greatly to Chattanooga's economic, civil, and cultural development.
Thomas Maclellan took over Provident Life Insurance in 1892 and became the first insurance provider to offer disability and life insurance for people working in the coal mines, saw mills, and iron ore furnaces that employed much of the region. This company has since evolved into UNUM, a global insurance provider with 2,800 employees in Chattanooga. In 1945, Thomas Maclellan's children started the Maclellan Foundation to support the physical and spiritual needs of the Christian community. Their generosity now benefits nonprofit organizations in Chattanooga and around the world.
In 1899, Benjamin Thomas and Joseph Whitehead purchased the rights to bottle and distribute Coca-Cola. They were soon joined by John Lupton, who realized this idea had the power to create a successful company that would continue to foster the spirit of entrepreneurship in Chattanooga. More than 400 bottling facilities were opened within the first 10 years, and there are now 900 bottling plants around the world. The Chattanooga location still produces and distributes Coca-Cola products across seven states.
John Lupton's son Cartter Lupton created the Memorial Welfare Foundation in 1938, which was renamed the Lyndhurst Foundation after Cartter's son Jack Lupton became the president in 1977. In the late 1980s, Jack decided it was time to pursue new ventures in Chattanooga and sold the bottling enterprise back to Coca-Cola. This is when the Lyndhurst Foundation began to redirect funding towards enhancing Chattanooga's community. For nearly 40 years, the Lyndhurst Foundation has been a chief supporter of the arts, education, urban and neighborhood revitalization, conservation, outdoor recreation, and the innovative economy in Chattanooga.
In 1900, Robert Siskin started Rubin and Siskin Iron and Metal. Building on the prosperity of the early 20th century and surviving the Great Depression, Siskin's business boomed when World War II created a high demand for steel. In 1949, the company merged with Chattanooga Steel and Supply to form  Siskin Steel and Supply Co. His sons, Mose and Garrison Siskin, founded Siskin Memorial Foundation in 1950, which led to the formation of Siskin Hospital for Physical Rehabilitation in 1990. Today, Siskin Steel and Supply has eight locations in five states and supplies metal to businesses in 13 states.
Founded by the Campbell family in 1902,   Chattanooga Bakery is known and loved for making one of the South's most famous snacks: the MoonPie®. Their facility in North Chattanooga now produces in excess of one million MoonPies® a day. Today, three generations of the Campbell family are involved with the business that employs more than 150.
Another sweet Southern treat came about during this time when William Emerson Brock opened Brock Candy Company in 1906. When Brock was elected Tennessee's U.S. Senator in 1928, his son, W.E. Brock Jr., led the company during the Great Depression. When it became impossible for workers to cash their paychecks at failing banks, Brock used the revenue from candy sales to pay employees directly. Under the leadership of Pat Brock, the family continued to manage the company until the 1990s. The Brock family has made a tremendous impact on the city through involvement with churches, public schools, the University of Tennessee at Chattanooga, and the United Way of Greater Chattanooga.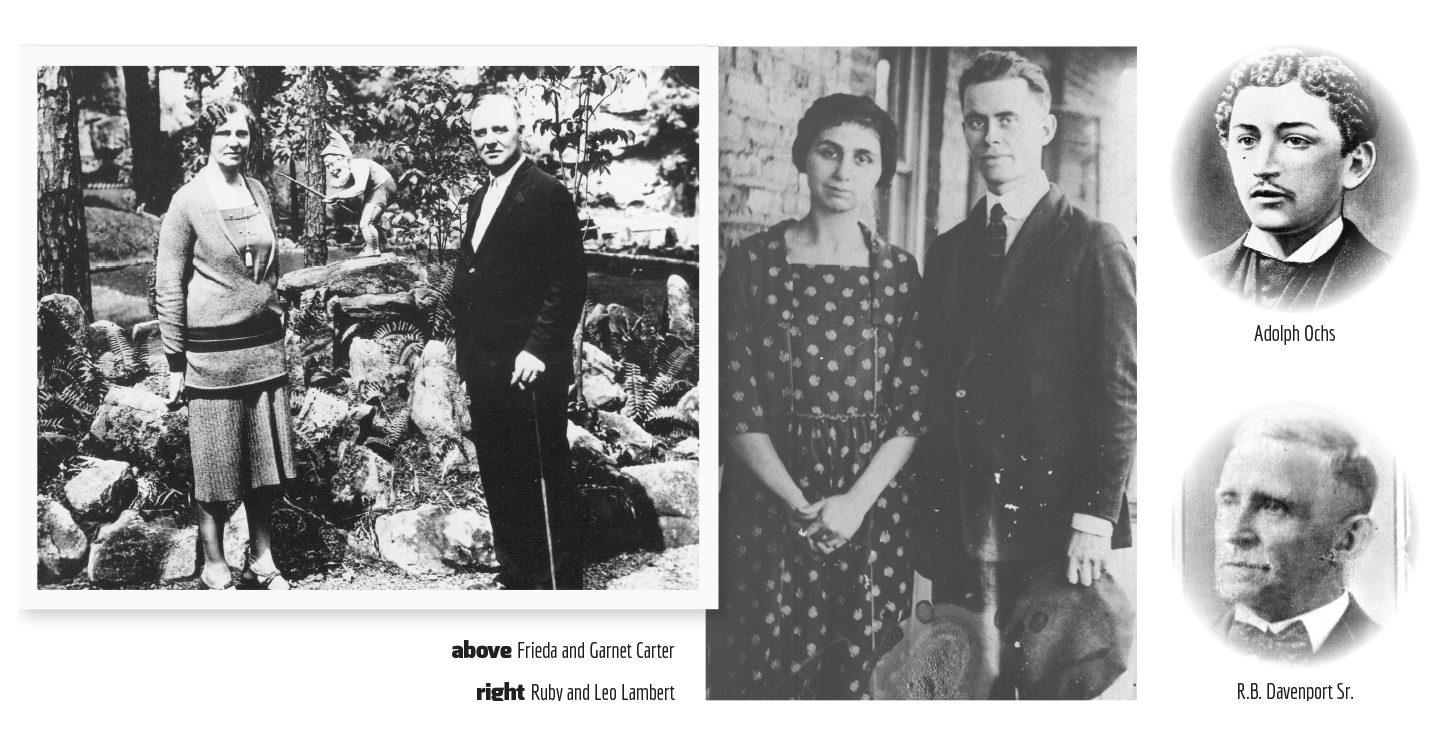 1925 to 1975:

Paving the Way for Tourism, Technology, and Transportation
During this 50-year period, the U.S. experienced a roller coaster of events including the development of a national highway system, the Great Depression and New Deal, World War II, and finally a "golden age" of prosperity. New interstates linked Chattanooga to the rest of the country and attracted tourists from all corners of the U.S. EPB was also formed to help distribute hydroelectric power to the 90 percent of residents without electricity. With the arrival of TVA's power and controlled transportation, new industries emerged in shipping, flooring, paper products, and printing. After WWII, the nation's economy boomed and Southern manufacturers were able to meet the high consumer demand for new products.
All these developments played an important role in shaping the economic framework of Chattanooga during the 20th century. The creation of the national highway system in the 1920s ushered in a fresh wave of tourism and placed Chattanooga on the route to popular coastal summer vacation spots. Local entrepreneurial families like the Carters, Lamberts, Dixons, and Hunters seized the opportunity to entertain families traveling south and put Chattanooga on the map as a tourist destination when they opened  Rock City Gardens (Carters), Ruby Falls (Lamberts), Lake Winnepesaukah (Dixons), and the Hunter Museum of American Art (Hunters).


Today the Chapin family – a third generation of the Carter family – oversees Rock City. Since purchasing Ruby Falls in 1984, the Steiner family has managed the property and welcomes more than 400,000 tourists each year. "Lake Winnie" opened in 1925 and is operated by the Dixon family's third generation.
Coca-Cola Bottling co-founder Benjamin Thomas had no children, and his nephew George Hunter inherited Thomas's share of the company and his family estate. Hunter was a lifelong patron of the arts in Chattanooga. He created the Benwood Foundation in 1944 as a tribute to his uncle, which helped transform his mansion into the Hunter Museum of American Art.
In 1933, the New Deal created TVA's electricity supply and lock system that allowed boats to ship heavy goods along controlled transportation routes. Shipping companies like Serodino Inc. and Kenco opened in Chattanooga to help businesses transport products efficiently on the new routes. Entrepreneur Victor Serodino established Serodino Inc. in 1933 and profited from TVA's new waterways by opening a marine transportation business. Today, Serodino Inc. barges move in excess of 4.1 million tons of material along the Tennessee River each day. Co-founders and brothers-in-law Jim Kennedy Jr. and Sam Smartt started freight carrier Kenco in 1950 with a single warehouse in Chattanooga and only two employees. Now led by a fourth generation of Kennedys, the operation has expanded to more than 100 North American distribution facilities and is the largest female-owned logistics company in the U.S.
O.D. and Ruth McKee arrived in Chattanooga during the Great Depression and opened McKee Foods after purchasing a struggling bakery. Their venture wasn't an overnight victory, but the couple persevered and found success in the 1960s when their Little Debbie brand began selling "family packs" of snack cakes. The McKees still manage the company and believe families should be able to enjoy time spent outdoors. They've given more than $2.8 million to develop local parks, greenways, and the Chattanooga Riverwalk. Little Debbie also sponsors Chattanooga's IRONMAN events.
Like the McKee family, the Davenports were part of a small group of Chattanoogans who were able to create business opportunities during the Great Depression. In 1932, Rody Davenport Sr. and Joseph Glenn Sherill opened the first  Krystal restaurant in Chattanooga to serve quality food at an affordable price. Their first customer purchased six Krystal burgers and a cup of coffee for 35 cents. After Rody Davenport Sr. passed away, his sons, Rody Davenport Jr. and Gordon Davenport Sr., maintained and grew the Krystal empire. These two men, along with their brother Bobby, have contributed to several important area organizations and institutions including the Tennessee Aquarium, Tennessee Riverwalk (sponsoring the Krystal Pier), Lula Lake Land Trust, and Finley Stadium. Rody Sr.'s grandsons, Gordon Davenport Jr. and Elliott Davenport, started Hometown Folks LLC in 2003, which operates their Burger King franchise in middle and southeastern Tennessee.
Building upon the success of newspapers established by past entrepreneurs, Roy McDonald published a popular weekly circular called Chattanooga Free Press in 1933. Readership reached more than 33,000 within a year, and in 1939, McDonald purchased the Chattanooga News. Shortly thereafter, he joined the two to form the Pulitzer Prize-winning
News-Free Press, which he led for 54 years. Among many contributions to the Chattanooga area, McDonald served on the board of Erlanger Hospital and helped bring the BlueCross BlueShield plan to Tennessee.
In the 1940s, Albert and Joe Cobble, two brothers from Chattanooga, patented a revolutionary new tufting machine that allowed factories to make significantly larger rugs and carpets. This innovation led to the Southern flooring industry that still thrives, thanks to the resilient members of entrepreneurial families such as the Friersons, Cards, Monroes, and Frosts. These families still employ hundreds and have given generously to the Chattanooga area.
Founded in 1927, Southern Champion Tray (SCT)
has been a family-operated company for three generations and is now celebrating its 90th year. Milton Zeiser became the company's president and majority stockholder in 1947 and led the company through its post-war boom until his son, Chuck, became president in 1968. Today, the business provides packaging options for bakery, food service, pharmaceutical, cosmetic, automotive, and office supply companies, and is headed by Chuck's sons John (president and CEO) and Bruce (vice president). The Zeiser family members are well-known for their efforts to strengthen families in our community.
While studying at Draughton's Business College in Memphis, Jim Berry took a job as a parking lot attendant for Allright Parking Company. He was soon promoted to manage the business operations of the Chattanooga location. In the 1960s, flying became a glamorous and exciting new way to travel, so Berry opened Air Terminal Parking to accommodate the surplus of cars people left behind during their trips. This company became Republic Parking System, which is one of the nation's largest parking firms. In addition to working with River City Company to revitalize real estate downtown, Berry was a generous supporter of the Health Science Center at Chattanooga State Community College and founded the Berry Scholarship for health science students.
Two of Chattanooga's early real estate developers were Moses Lebovitz and his son Charles. Together they led Independent Enterprises, a retail development company Moses founded in 1961. Their success developing regional shopping malls spurred Charles to establish CBL & Associates in 1978 and in 1993 the company went public listing on the NYSE. Since that time, CBL has grown tremendously and now holds interests in over 140 properties nationwide and employs 375 local residents.
Another pioneer in Chattanooga's property development is EMJ Corporation, which was founded by Edgar M. Jolley in 1968. His family is still involved with the company's success, and EMJ is now a leading construction services company for projects across the nation including industrial, distribution, schools, groceries, hospitality, health care, office buildings, retail, and renewable energy. The company is a continual supporter of local charities and education in the Chattanooga area.
Bob McKamey, another local entrepreneur, opened Capital Motor Sales, Inc. in 1954 to help bring the "golden age" of automobile transportation to the area. In 1966, it became Capital Toyota – the first Toyota dealership in Tennessee. Capital Toyota recently celebrated 50 years of business and remains in the top five oldest Toyota dealerships in the mid-America states. It employs nearly 200 local residents and has expanded to include the Lexus and Scion divisions. The McKamey family is actively involved with giving back to the community through organizations including March of Dimes, McKamey Animal Care and Adoption Center, MaryEllen Locher Foundation, Helene DiStefano Fund, Hamilton County Schools, and Siskin Children's Institute.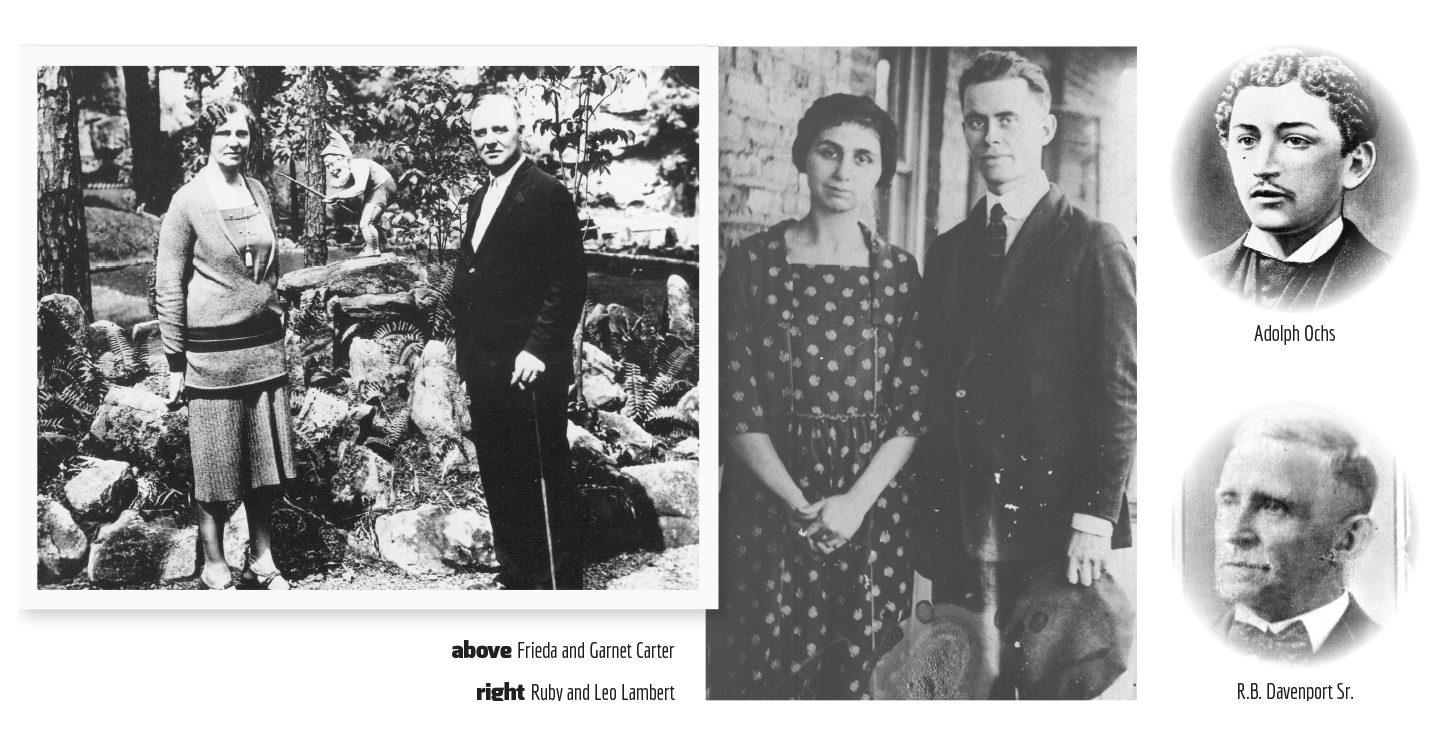 The late Dr. J. Don Brock opened Astec Industries, Inc. in 1972 when he saw an opportunity to update manufacturing processes and produce equipment for a variety of markets, including hot mix asphalt production and paving equipment. Brock's innovative designs resulted in an amazing 100 patents during his lifetime. Brock was widely recognized in Chattanooga and around the world for his persistence in helping people, earning him the nickname of "The Good Doctor." Today, Astec has over 1,400 employees in Chattanooga, is managed by Don's son Ben Brock, and is a global leader in producing equipment for infrastructure, aggregate, mining, and energy industries.
1975 to 2005: Willing to Risk – A Period of Great Uncertainty
The time between 1975 and 2005 was truly a tale of ups and downs. During this period, Chattanooga reflected on the area's strengths, honored the community's heritage, and set a new vision for the city's future.
For the first time since the Great Depression, the U.S. economy slowed. From the mid-'70s to early '90s, GDP declined and rebounded three different times, impacted largely by an oil embargo, higher oil prices, record interest rates, a savings and loan crisis, and the Gulf War. The '90s saw the economy rebound strongly, powered by the development and expansion of new technology. However, the 21st century began with a recession, the 9/11 terrorist attacks, the Afghanistan War, and the Iraq War.
During the same period, following Walter Cronkite's declaration in 1969 that Chattanooga was the "dirtiest city in America" and the loss of manufacturing jobs, the community rallied to establish a plan for the city's future. From 1985 to 2005, with the financial support of the local business community and families of successful entrepreneurs, the 21st Century Waterfront was completed and the city was transformed into one of America's most admired cities and a top destination for tourists.
Recognizing new opportunities from a transformed downtown and a renewed tourism business, entrepreneurs invested in new restaurants, hotels, and attractions. Some of the first new businesses were Big River Grille and Brewing Works, opened by an investment group that included Tim Hennen, Allen Corey, Rob Gentry, and Jon Kinsey, and the restaurant 212 Market, which was opened by the Moses family. Dr. Charles and Mary Portera created the Bluff View Art District that today includes a bakery, coffee shop, art gallery, inn, and two restaurants. In 1997, Mitch Patel entered the lodging business and started  Vision Hospitality Group, which today oversees a portfolio of 31 hotels. 3H Group Hotels,  founded by Hiren Desai, followed in 2000. Now the company manages more than 20 hotels in five states, with six locations in Chattanooga alone.
Despite the uncertainty associated with the economic swings and foreign affairs for this time, other entrepreneurs invested in new businesses which today are some of Chattanooga's top employers. Among those include Stephen Culp, who relocated his Silicon Valley-based company Smart Furniture
to Chattanooga to take advantage of distribution sources available and the quality of life offered in the city. His investment group, Chattanooga Renaissance Fund, has played a key role in the success of local entrepreneurs and startups such as Ambition, Iron Gaming, RootsRated, SupplyHog, and Quickcue, which was acquired by OpenTable in 2013. Culp also supports the nonprofit organization Causeway, which provides resources to support new ventures that help solve challenges faced by the city of Chattanooga.
Others include Harshad Shah who established Hamilton Plastics with the innovative idea to produce trash bags that were twice as strong and used half the material of his competitors. Hamilton Plastics now employs over 120 people and supplies a variety of plastic packaging solutions for the food, industrial, medical, and specialty markets. Shah has served on boards dedicated to the advancement of local education.
In 1996, local entrepreneur Greg Vital established Independent Healthcare Properties (IHP) and Morning Pointe Senior Living. For 20 years, the company has provided more than 1,600 seniors with positive and enriching living communities in five states. IHP now employs 250 Chattanoogans and continues to invest in this community through partnerships with Girls Inc. of Chattanooga, support for the Friends of Moccasin Bend, and the Morning Pointe Foundation.
Building on opportunities offered following the Motor Carrier Act of 1980, which deregulated the trucking industry, David and Jacqueline Parker opened Covenant Transport in 1986 with a mere 25 trucks and 50 trailers. U.S. Xpress was formed that same year by Max Fuller and the late Pat Quinn. Today, Covenant employs more than 6,000 people nationwide. U.S. Xpress has become the country's second largest privately owned truck carrier, with 10,000 employees nationwide and 6,000 tractors.
In the early 2000s, Allan Davis, Ted Alling, and Barry Large identified a growing need for third-party logistics to transport goods. Their company, Access America Transport, merged with Coyote Logistics in 2014 and now works with a network of over 40,000 carriers to provide brokerage and transportation management services to more than 14,000 Fortune 100 companies and small businesses. Davis, Alling, and Large are partners at  Lamp Post Group, a venture capital firm and incubator that helps startups move quickly to independent growth. Earlier this year, they announced a new project called Dynamo, which is a mentor-driven innovation program to accelerate entrepreneurs with a new business idea for the logistics, transportation, and supply chain industries.
2005 to Present:

Naming the Next Generation of Entrepreneurs
In the most recent 10 years, uncertainty deepened behind the "Great Recession" of 2008, yet the spirit of entrepreneurship that had powered Chattanooga's economy for nearly 190 years remained strong.
When Ben Fischer founded Signal Energy in 2005, he created a unique business that provided a complete package of design, engineering, and construction services for buildings that use renewable wind and solar energy. Signal Energy is now part of EMJ Corporation, and the company has grown from a small startup to being one of the nation's
top developers of renewable energy infrastructures.
Backed by EPB's introduction of the nation's highest speed fiber optic cable network in 2010 and a community of public and private equity groups, Chattanooga offered entrepreneurs the infrastructure needed to develop new, technologically advanced companies like Airnet and Branch Technology.
In 2002, Airnet was formed to provide hosting, connectivity, and colocation services to the greater Southeast. Since that time, and with the arrival of EPB's ten-gig-per-second network, the company has experienced tremendous growth. It now serves clients around the world with cloud and hybrid hosting solutions and operational managed services.
Branch Technology, founded by Platt Boyd and Christopher Weller in 2013, doesn't simply build structures. They work with architects to create an innovative, cost-effective building using a 3-D printer and the company's cellular fabrication technology. Branch will also build Chattanooga's first 3-D printed home soon as part of their Freeform Home Design Challenge.
Among many other notable business ventures in the past five years are Bellhops, which began in 2011 when Stephen Vlahos and Cameron Doody helped coordinate freshman move-in day at Auburn University. Today, their company's network has expanded to 8,000 college students who complete short distance moves throughout 42 states.
Nick Macco and Adam Boeselager started Southtree to preserve memories and transfer them into a more sustainable digital format. In 2011, Southtree received an Innovate Here grant in support of the company's efforts to foster growth in urban areas of Chattanooga.
Steam Logistics was formed in 2012 when Steve Cox, former EVP of Access America Transport, seized an opportunity to provide third-party international logistics services, a need that wasn't filled by national trucking freight brokers. In a few short years, Steam Logistics has already achieved revenues of more than $10 million and aims to increase that in the future.
Experienced entrepreneur Ken McElrath founded  Skuid in 2013, which helps businesses utilize a variety data sources in a digital platform that matches their business needs. Two generations of the McElrath family are now involved with the operations, and Skuid has reached 5 million users across 24 countries in a mere three years.
Torch co-founders and local entrepreneurs Shelley Prevost, Jack Studer, and Wayne Fullam are changing the way families engage with the internet at home. Torch offers a Wi-Fi router and smart phone app that allows parents to manage a child's online activity and ensure children are only able to access safe, appropriate content. The product won't be released until later this summer, but almost 2,000 families have already helped invest in the company through Kickstarter and pre-orders since 2015.
For 200 years, entrepreneurs have taken risks to establish new businesses, and many of their families are still involved with Chattanooga's community today. In spite of economic challenges, these individuals persevered, paid it forward, and paved the way for future generations. Like their predecessors, 21st century startups will continue to power the city's economy and provide resources for the next wave of innovators. A company's financial success might be defined in numbers, but Chattanooga's spirit of entrepreneurship is defined by its people's courage, resiliency, generosity, and willingness to carry the torch lit by two centuries of Chattanoogans.